How to get into knife collecting
Apr 11, 2012, 9 a.m.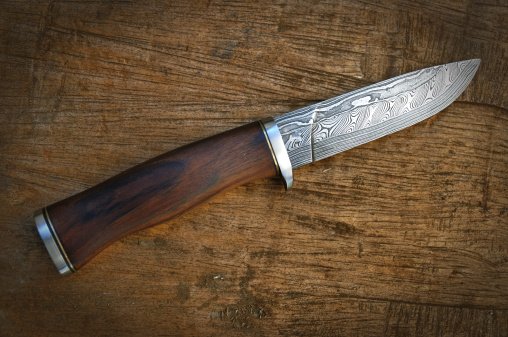 Playing mumblety-peg with collectible knives
In days of old, when schools were brave and kids were allowed to carry marbles and pocketknives as standard gaming tools, the focus was not on quality collectible knives but rather cheap, disposable bare-head jacks. Knife play involved the likes of mumblety-peg and pocketknife baseball.
A certain group of adults grew out of that batch of well-mannered youngsters that liked playing with sharp instruments and who sometimes ended up with a few cuts and stitches. They were the hobbyists, people that treasured Case knifes, Stockman knifes, and other collectors knives, including some that were far larger than mere pocketknives.
Discover the Pleasure of Laying Hands on Quality Collectors Knives
Knives come in many categories, ranging from automatic knives to survival knives, and even include the category of swords and other martial arts weaponry. Narrowing choices down by category can help you find a focal point for beginning your accumulation of collectible knives.
1) Handle Collectors Knives
Many collectors focus on the handle of the knife rather than cutting, dicing or chopping power. Aside from protecting the user from the hazards of working with sharp instruments, every knife series is designed with particular look and feel. Consider beginning your knife collection by learning the value of celluloid, green bone, mother of pearl or stag handles.
2) Brand Name Collectors Knives
Some collectors knives are ranked by brand name. For example: Remington Cutlery holds a popular value among pocketknives. Case and Gerber typically hold best value among hunting knives. Learning the history of a single company can provided an easier, more limited entry point into the world of collectible knives.
3) Pattern Collectors Knives
Some knives are designed for easy carrying and minimum cutting jobs. Others are shaped with large handles and small blades to enable easy handling for tasks such as whittling and carving. Pattern-focused collections center on shape and styling.
4) Souvenir Collectors Knives
This is about specialty knives, including fantasy blades and swords. Souvenir knives often relate to a particular movie character, historic era or even video game. They typically involve a certain artistic shape and styling that reflects the ancient combat world.
The Starting Point
Why you do it doesn't matter. Knives combine beauty, efficiency and style in a manner that makes an excellent focal point for people interested in taking on a new hobby.
Content Provided by Spot55.com