Victor Victorious!
A Profile of Actor and Activist Victor Garber, Advocate for Alzheimer's Awareness.
Hal Drucker | Mar 5, 2012, 1:48 p.m.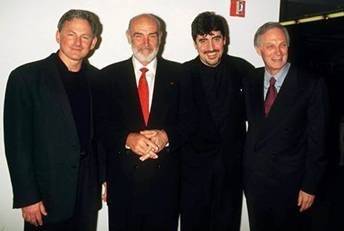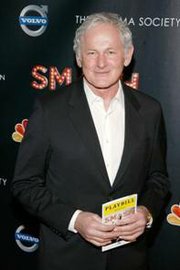 Until I interviewed Princess Yasmin Aga Khan 23 years ago for a book I co-authored with Sid Lerner,* I had little idea of the ravages inflicted by Alzheimer's disease, which befell her mother, film goddess Rita Hayworth. "When I began caring for my mother," she told me, "nobody had ever heard of Alzheimer's. There were just a few of us at first, trying to raise enough money in 1980 to buy a simple computer." Since its inception, the New York Rita Hayworth Gala led by Founder and General Chair Princess Yasmin Aga Khan has raised more than $31 million for the care, support and research efforts of the Alzheimer's Association.ˇ
In my haste to be on time for a recent doctor's appointment, I forgot to bring my own reading matter, generally the NY Times or The New Yorker or my new E-Pad. My only recourse was to thumb through the medical journals in the waiting room. One of the slicker publications was entitled Preserving Your Memory, which contained an interview by Karen Doss Bowman of an actor whom I have admired for his versatility in serious drama, comedy and musicals: Victor Garber. What struck me was that he lost both parents to Alzheimer's disease. In reading on, I saw that Garber has had juvenile diabetes since age 13 and is as much of an advocate on behalf of the Juvenile Diabetes Foundation as he is for Alzheimer's research. I learned something else from the article. He is a Canadian by birth. On the eve of our discussion, some promising news relating to the battle against Alzheimer's appeared on the front page of the NY Times, informing that scientists are beginning to close in on possible diagnostic tests and treatment for this insidious disease.
It began for Victor Garber in London (born March 16, 1949), Ont. as a nine year-old when with diminutive steps he strode the boards of the Grand Theatre. He started with children's shows but, shortly after, it became apparent to his drama coaches that the young actor would do just fine in mainstage productions of the company. "My parents were of Russian-Jewish descent. My mother Hope was a singer and had her own television show At Home with Hope Garber in London, Ontario. She was a local celebrity who was supportive of my decision to pursue show business. As a Jewish parent, my father Joseph was a little less enthusiastic because he worried I wouldn't be able to make a living. But I could count on him to send me a check when I was living on my own in Toronto.
In 1964, when only 16 years-old, Victor left his hometown and went to Toronto, to study acting in an intensive summer course at the University of Toronto's Hart House Theatre. Directly after that, his theatrical training continued as he started working for a time with the experimental theater company, Toronto Workshop Productions.
There then began a detour from stage aspirations to a musical career with The Sugar Shoppe folk rock group, which recorded an album for Columbia Records and appeared on The Ed Sullivan Show. After Sugar Shoppe disbanded in 1972 he was cast as Jesus in a Toronto production of the off-Broadway musical Godspell.