Council of Senior Centers and Services of NYC & Fordham
Receive National Award for Senior Study
Mar 25, 2012, 3:40 p.m.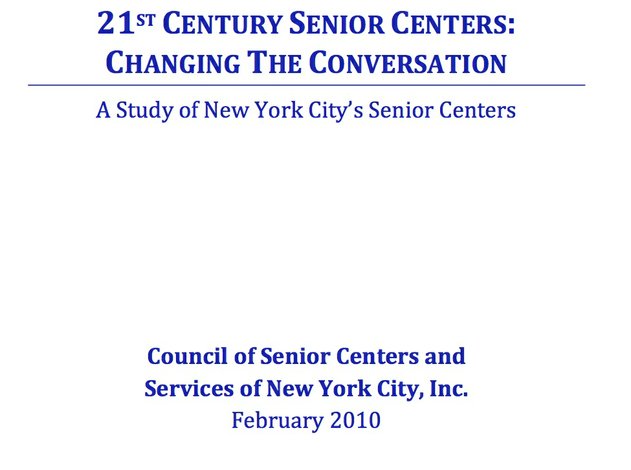 Council of Senior Centers and Services of NYC
The Council of Senior Centers and Services of NYC (CSCS) and Fordham University will be presented with the research award of the National Institute of Senior Centers at one of the largest national conferences on aging at 6 p.m. on March 28 at the Washington DC Mariott Wardman Park Hotel. The CSCS website, www.cscs-ny.org has a full copy of the study, 21st Century Senior Centers: Changing the Conversation, A Study of NYC's Senior Centers
Study organizers were thrilled that over 3600 older adults responded to the survey done in English, Spanish, and Chinese. As NYC and the rest of the nation witness rapid growth in the older adult population, senior centers will play an increasingly pivotal role providing nutritional meals, health and wellness programs, social services, an array of other supports and importantly prevent social isolation leading to physical and mental deterioration.  Senior centers are the social network of thousands of older adults meeting the needs of the diverse population of NYC and across the nation.
A strong study team was established under the supervision of CSCS Executive Director Igal Jellinek, researcher Manoj Pardasani, Professor, Fordham University Graduate School of Social Service and Bobbie Sackman, CSCS Director of Public Policy, authoring the recommendations. 
The first recommendation of the study, initiating new models of senior centers, has come to fruition, as NYC embarked on its Innovative Senior Center program this year. In these fiscally constrained times, NYC allocated $5 million of new money for the Innovative Senior Centers. To date, eight senior centers have been chosen as part of this new initiative – three new centers and five existing ones that will add programming and services to attract a new population of seniors, including boomers. Two more targeted to begin July, 2012, will be selected.
Other study recommendations include:
Ensuring adequate base funding to strengthen senior center capacity
Provide an adequate number and diversity of nutritious meals
Provide social work services and mental health programs 
Workforce support for professional staff
Provide health promotion services and programs
Lifelong learning opportunities
Provide seniors with accessible, reliable and affordable transportation
Increase funding and collaborations of creative arts
Igal Jellinek, Executive Director, CSCS, "CSCS is grateful to the National Institute of Senior Centers of the National Council on Aging for presenting us with its national research award at their annual conference on March 28th. Since 1979, Council of Senior Centers and Services has recognized the role senior centers play in the community and lives of senior citizens. CSCS wanted to ensure that the voices of the senior center network's most important stakeholders were included in the discussion about the modernization of senior centers, older adults and senior center directors. We were out to change the conversation about senior centers to document their continuing value in the lives of thousands of older New Yorkers and many more across the nation. With this study, "21st Century Senior Centers: Changing the Conversation, A Study of NYC's Senior Centers", I firmly believe we have succeeded in changing that conversation."